Hayden Lake's North Arm to Receive Phase 3 Milfoil Treatment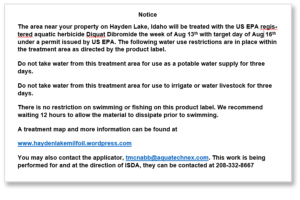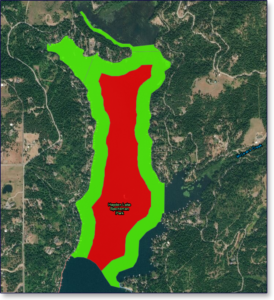 ISDA will implement the third phase of planned Milfoil treatment on Hayden Lake next week. The herbicide application will cover the north arm of the lake, the home of Sportsman's Access. All residents along the affected area's shoreline received a postcard via certified mail last week, and Aquatechnex will post notices at all public access points by the 14th.  Water use restrictions for the treated area will be in place per the Littora label for >2 gallons/acre. Residents around the lake and non-residents who use this area need to know as well.  Please share this information with your friends and neighbors.
Get information directly from the contractor, Aquatechnex, via their Hayden Lake Milfoil page. Click the map image here to view the full treatment area.
Please help us understand the impact of Milfoil treatment by filling out the survey below. If you have questions about Milfoil treatment on Hayden Lake, be sure to add then via the last survey question or by commenting on this post. Monday's post will follow-up with more information and answers to your questions.
How will you be affected by the Milfoil treatment on Aug 13 in the north arm of Hayden Lake? (Check all that apply to you.)

The more aggressive the treatment plan the better. The Milfoil is destroying the quality of the lake.

* 50%, 1

vote

1 vote - 50% of all votes

We have had a horrible weed year at Sportsman Park. A group of three of us neighbors removed 3000# of weeds from our shore area...most had floated in. Anything to lessen this impact is welcome.

* 50%, 1

vote

1 vote - 50% of all votes

The treatment will have no impact on me.

0%, 0

votes

0 votes - 0% of all votes

Total number of selections: 2

Replies: 2

August 10, 2018

-

August 21, 2018

This survey is closed.

What part of Hayden Lake do you live on?

What questions would you like us to answer in the next BLOG post? (Check all that apply, or add your own!)

Thank you for participating in this survey!