Have you heard?
The City of Hayden is working to enhance the Honeysuckle recreation experience. Their current proposal includes expanding the beach park and moving the boat launch to the south corner of Honeysuckle Bay by the spillway.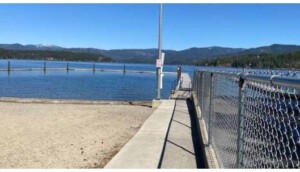 "The City understands that Honeysuckle is a long-time popular summer attraction and a cherished amenity for many residents, from people fishing and boating to kids at summer camp to families on the beach. After many years of challenges, as well as heightened use of Honeysuckle Beach in recent years, the City of Hayden is working on a public engagement process to identify solutions for safety, congestion, and traffic and pedestrian flow. The goal is to improve the experience for beach, dock, and boat launch users, not increase capacity." — City of Hayden Open House Presentation
Were you there?
The City of Hayden hosted an open house on January 26 to present the proposal and discuss feedback. If you weren't able to attend, take the time to read the Open House presentation. It details the challenges and goals, the project timeline, and the next steps. Look carefully for the descriptions of the potential solution concepts:
building an interim parking lot at Honeysuckle Ave. and Smith Rd.
enhancing the beach and expanding the Honeysuckle Park space
relocating the boat launch to the area adjacent to the spillway in the southern corner of Honeysuckle Bay
enhancements to Honeysuckle Avenue
Have you responded?
Please note that Hayden has not approved the design concepts yet. Analyses are anticipated but not completed. The project team has yet to detail logistics. Some observers have expressed concerns over the plan, and the City understands that these need to be explored. Most critically, the City wants to hear your feedback before taking any further steps.
References - find more on the web:
CdA Press: Searching for Honeysuckle's Sweet Spot (requires subscription)