Good forest management is required to achieve forest health and help avoid catastrophic fires.
The reduction of fuel through logging operations is necessary and
will impact residents around Hayden Lake.
(Click here to open a larger .pdf version of the poster.)
---
At the Hayden Lake Watershed Association's Annual Meeting in August, the Association's President, Geoff Harvey, shared an update on the Honey Badger Project (HBP) that included the viewshed poster shown above.
The View From the Western Shore
The color swatches painting the horizon of this Hayden Lake landscape mark where the HBP's vegetation treatments will be visible from approximately English Point and its surrounding area. This project view stretches from southward views of West Canfield Butte to northward views of Buckles Mountain and Hollister Mountain, encompassing a majority of the Hayden Lake basin. While the picture is a bit shocking at first, keep in mind that this image captures the impact of 10-plus years of treatments in one snapshot. The project will unfold over time. The visual impact from early treatments will soften as regrowth will be well underway when later treatments occur. Some treatments, shelterwood removal, for example, will have a less dramatic visual effect than others, such as clearcutting. And overall, the project designers ensure us of their efforts to maintain moderate to high scenic integrity.
The Birds' Eye View
The poster's depiction of the proposed harvests shows the distribution of treatments from the ground level. Many treatments lie on east-facing slopes or behind intermediate ridges in the watershed and so won't be visible from this perspective. The most visible treatments lie at higher elevations geographically east of Canfield Buttes (right of center in the poster image) and along the west-facing slopes of Buckles and Spades Mountains. Click this map image to explore an interactive map and locate shelterwood removal, seed-tree cuts, clearcutting, and landscape burns from a birds' eye view. It can be challenging to translate between the landscape view and the map view. Reading page 23 of the Scenery Effects Analysis while viewing the map will help.
What can you do?
Though the comment period has passed, the Forest Service is eager to engage the public throughout the project's life.  Here are ways that you can raise your awareness and others':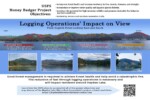 Our view from the shores of Hayden Lake will most definitely change. The actions affecting the changes are necessary steps toward better forest and watershed health. Nevertheless, it's hard to let these beautiful views go.
We invite you to share your photos of vistas in the Hayden Lake Watershed with us through email. Help us build this gallery of visual memories to carry with us through the changes ahead.