Attention Contractors: Request for Bids
The Hayden Lake Watershed Improvement District is soliciting bids for the contracted removal of the debris collected during the 2023 Lake Debris Removal Project.
Work must begin on or after June 5, 2023, and be completed by 5 p.m. on June 24, 2023.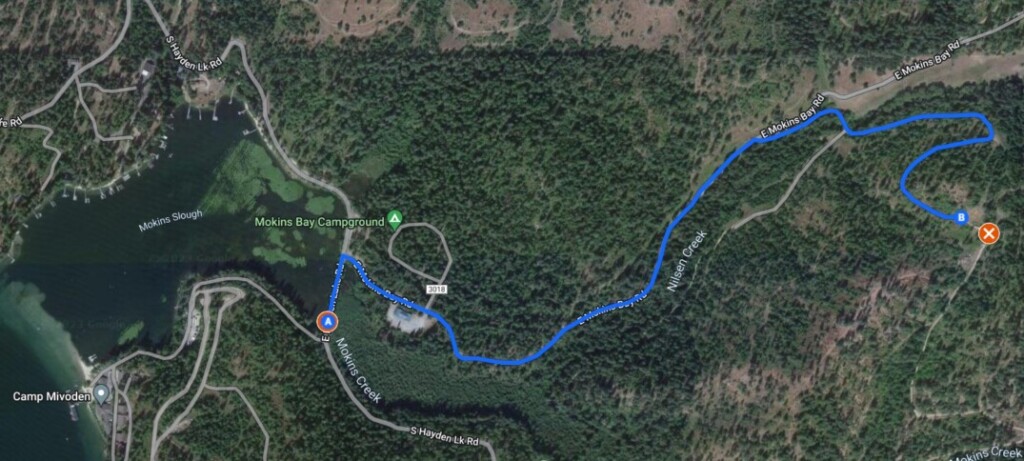 Click here to view the map online.
Legend: A = debris staging site; B = debris storage and burn site.
The storage/burn site is gated, requiring an entry code. Please contact Todd Walker, Hayden Lake Manager, 208/771-0525, to preview the site.
Brief Description of Contracted Work:
Removing and size-reducing debris from the lake where residents have secured it to the shoreline. The staging site is on the southeast end of Mokins Bay on Hayden Lake, location A on the map. The District expects the amount of debris to be equivalent to 8-10 docks.
Controlling traffic on South Hayden Lake Road during the work, which is expected to impede at least one lane of traffic in either direction.
Transporting debris to the Mivoden storage and burn area (location B on the map) less than two miles from the removal site.
Cleaning the staging site, in and out of the water, after debris removal.
Transporting non-burnable debris to municipal waste.
The contractor will provide all the labor, equipment, and materials needed to complete the job. They will comply with all local, county, and state rules and ordinances for conducting such work in a public area. In particular, they will contact the Lakes Highway District for appropriate permit requirements before submitting a proposal. The Lakes Highway District will define requirements and conditions for debris removal work along South Hayden Lake Road.
Todd Walker, Hayden Lake Lake Manager, will conduct a site tour with the contractor before beginning work to identify the extent of the removable debris.  He will also conduct pre-bid tours by arrangement.
Submitting Bids
The Hayden Lake Watershed Improvement District will accept sealed bids until 5 p.m. on May 29, 2023. Please address your bid to HLWID, Attn: Debris Removal RFB, mailed to P.O. Box 0161, Hayden ID 83835; you may also submit via email to contact@haydenlakewid.com
Interested parties should direct all questions concerning the project to Todd Walker, 208/771-0525.
References - find more on the web:
'23 Lake Debris Removal Statement of Work / RFB
Advertisement of RFB for Lake Debris Removal
Lake Highway District Permit Information