Jeremey Varley, Agriculture Section Manager, Noxious Weeds, Idaho State Department of Agriculture, announced that the resulting weed treatment plan will include both mechanical harvesting and herbicide treatments. Treatment will start the week of July 10.  
Check the Status of Your Water Rights!
Per Idaho Law, ISDA has notified water rights holders inside and within ¼ mile of the chemical treatment areas. There is no requirement to notify rightsholders within mechanical treatment areas. If you expect to receive a notice this week but do not, contact Idaho Department of Water Resources. You may need to complete a water rights transfer, change ownership, or update your mailing address.   
Notices are addressed to the mailing address of the water rights owner on file with IDWR, not the property address. If renters or guests stay within the treatment area during the week of July 10, please share the treatment notice with them.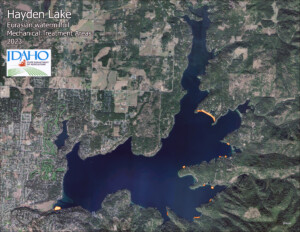 Mechanical Harvesting Begins July 10
Divers will mechanically harvest EWM from designated areas between Gem Shores and Windy Bay and along the south side of Honeysuckle Bay. 
ISDA employs mechanical harvesting when the noxious and invasive weed population is sparse and covers a limited area. This management strategy is both effective and environmentally friendly. It aims to minimize the use of chemical herbicides in the lake system while having a negligible impact on water usage.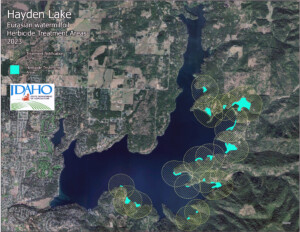 Herbicide Applications Scheduled for July 11-13
ISDA's contracted applicator will apply ProcellaCOR® to designated areas within this timeframe, provided weather and water conditions meet requirements. 
When the density of noxious weeds is high and covers a large area, mechanical harvesting can be too expensive and damaging. In such cases, ISDA resorts to using chemical herbicides. Whenever possible, they use selected herbicides that target certain weed families to minimize the impact on the environment and water users. ProcellaCOR is one that has successfully managed EWM in Hayden Lake in recent years.
ProcellaCOR® Herbicide Restrictions
There are no drinking water restrictions. 

There are no restrictions for recreation or fishing. 

There are no restrictions for the irrigation of turf grass. 

Irrigation restrictions for ornamental and broadleaved plants/crops will start on the day of application. They will remain in place until post-treatment samples show a residue level of less than two (2) parts per billion (ppb). ISDA will collect samples approximately three days after the herbicide application. Results will be published on the 

ISDA treatment map

. 
This weed treatment plan, including mechanical harvesting and herbicide treatment, addresses all EWM found growing at the time of ISDA's weed survey. Jeremey Varley added, "You will notice there is no treatment planned in the north arm. There was no recorded EWM in the north arm!!! We looked heavily to try and find some. But I am happy to report none was found."
Thank you, ISDA, for your ongoing attention to managing noxious and invasive weeds in Hayden Lake!
References - find more on the web: