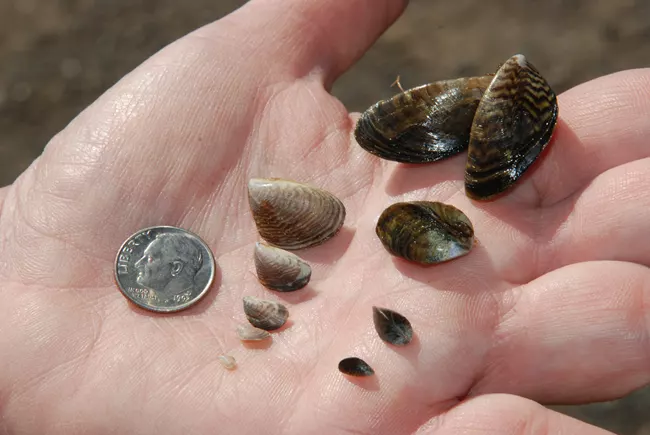 What is a quagga mussel?(3)
Quagga mussels are a more aggressive cousin to the invasive zebra mussel, both in the Dreissenidae family.
Like their zebra cousins, they are small, triangular, freshwater bivalves with rounded, asymmetrical shells. They usually grow to about the size of a quarter.
They are blond to black in color, sometimes with varying stripes.
They can affix to hard surfaces like docks and dams and soft surfaces like sandy lake bottoms.
They produce millions of eggs in a spawning season, to the point of outcompeting native plants and animals for resources.
The alarm has sounded!
Idaho State Department of Agriculture (ISDA) has identified veligers, the free-swimming larval stage of the invasive quagga mussel, in the waters of the Snake River near Twin Falls. They have shut down the suspect part of the river and, for the first time, are carrying out a rapid response protocol. Their efforts aim to identify the scope of the infestation, manage the impact, and prevent the spread of this invasive muscle.
What does it mean for Hayden Lake?
This alarming news raises many questions about Hayden Lake's vulnerability to invasive muscles, ranging from "Are they here?" to "Are they really that bad?" Here are some answers. More will come in the following days.
Invasive mussels could have huge impacts on Hayden Lake.
Potential direct impacts include sharp mussel shells coating sandy shores, docks, and piers. Furthermore, secondary impacts, like increases in the cost of upkeep for private water intakes and Irrigation District water delivery, could be staggering.