How can you help?
Those who use the site for shooting can help reduce contamination and ensure the long-term utility of the site by picking up their spent cartridges, casings, picnic waste, and litter. Don't drive over or shoot at the berm.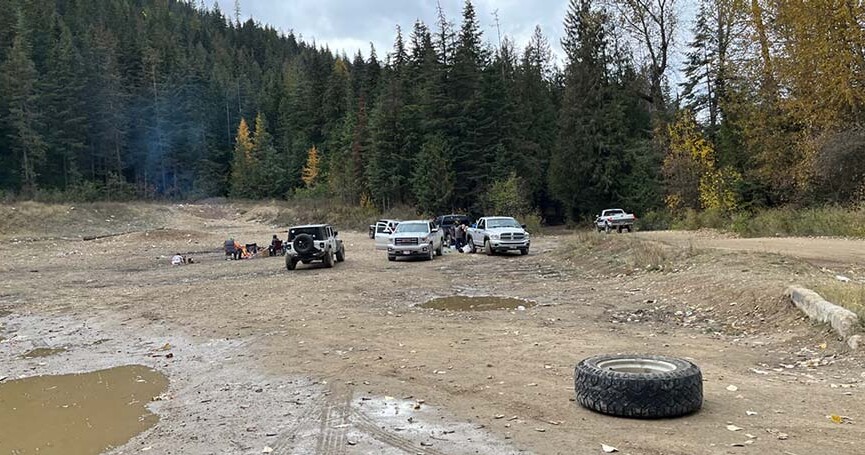 Leave the site better than you found it.
The Hayden Lake Watershed Improvement District (HLWID) partnered with the Hayden Lake Watershed Association and US Forest Service (USFS) to restore a damaged berm between an old borrow pit and Hayden Creek Road. The updated design helps prevent contamination-bearing sediment from entering Hayden Creek yet allows water to flow.
From Hillside to Borrow Pit to Source of Lead Contamination
The borrow pit was once a natural hillside that drained into Hayden Creek. To meet the road construction needs around the area, the hill became a source of fill materials for other locations. The details of who did the work and when are lost now, and the earth movers have been absent for decades. In their place, recreators have taken advantage of the left-behind pit area as an effective backdrop for gun sighting and target shooting.
Residents and visitors have speculated about contaminants released by shooting that would collect in the soil at the site. Last fall, the USFS tested water in and near the borrow pit and confirmed the presence of lead and other heavy metal contamination. A simple observation of the area shows that rain and snowmelt naturally drain from the pit. Any runoff would carry the lead into the creek and downstream to the lake.
Berm Restoration Leads to Protected Water Quality
The restored and fortified berm is built to withstand the rugged use it's likely to receive. It will slow runoff from
melting snow and rain, allowing sediment to settle.  Because the heavy metals are attached to sediment, they, too, will settle behind the berm. The water will percolate through the berm without its contaminant load.
"It is very rewarding to work on projects that promote the health and resiliency of the watershed. Restoring the berm is especially satisfying because we collaborated with USFS and the Association to get it done." – Kristine Bartz, HLWID Board Member
The construction is now complete. We hope to have a ribbon-cutting celebration in spring when the wildflowers start to bloom.
References – find more on the web:
CdA Press: Popular shooting site temporarily closed near Hayden Creek